With three weeks left to Pesach/Passover we will be bringing you some of Nechama's favorite Pesach/Passover recipes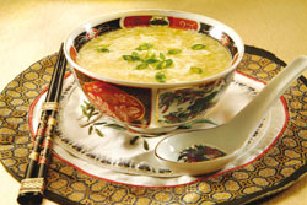 Low Carb, Low Fat (with bones only: Fat Free)
Yields: 12 servings
This is a low-carb version of the same great chicken soup classic that you are used to but not loaded with vegetables.
1 chicken, cut up with the skin removed, and/or 2 packages of chicken bones
2 large turkey necks
2 carrots, peeled and halved
1 onion, peeled
2 leeks (see Tip on p. 42)
5 small zucchini, whole (see Tip on p. 47)
2-4 stalks celery
1 (8-ounce) piece of pumpkin, peeled and cubed
salt and pepper to taste
2-3 tablespoon chicken soup powder (optional)
3 cloves garlic, peeled
fresh dill & parsley sprigs
kohlrabi, parsnip, celery root, green and red peppers
Use the first method listed earlier for cleaning poultry/meat dishes (see p. 39), but include the vegetables in the first boil. Now most of the carbs will be in the discarded water. (For those who cannot give up on carrots, sweet potatoes, etc., boil them in a separate pot for 10 minutes, discard the water and add the semi cooked vegetables to the soup.) Return the chicken/bones/necks and vegetables, except for the zucchini, to the pot, add herbs and spices, and cover with cold water plus 3 cups. Bring to a boil. Lower the flame to simmer. Add the zucchini and cook covered over medium low heat for about 2 hours.
Note: You might want to put the greens, garlic, onion and leeks in a flow-through muslin bag to keep the pieces from getting into the soup, and to make for easy disposal.
Nutrition Facts
Serving size (cup)  1 1/2-2
                                           with chicken       chicken bones only
80

3

4

0

0

5

370

0

0

100

11

3

3

1

50

300

0

1

Calories  
Protein (g)
Carbs (g)
Fat (g)
Sat. Fat (g)
Cholesterol (mg)
Sodium (mg)
Calcium (mg)
Fiber
Exchanges: Starch/vegetable  1                        4
Lean meat protein                  1 1/2                  1/2
---
Egg Drop "Noodles"
Carb Free, Low Fat / Yield: 6-8 servings
I learned this from my mother over 40 years ago. It is so easy and light; you won't believe it's kosher for Passover. Egg drops are a marvelous, filling and healthy accompaniment to any soup. The Chinese way to serve this dish is in a clear chicken soup sprinkled with scallions.
6-8 cups clear chicken soup (see pp. 47, 48)
2 whole eggs plus 1 egg white
2 tablespoons water
salt and pepper to taste
Using an 8-10 cup soup pot, bring chicken soup to a funny photos rolling boil. Beat the eggs with the water and season to taste. Pour mixture slowly into the soup, while swirling it with a whisk or fork to create a noodle-like appearance.
Nutrition Facts
Serving size (Tbsp) 2-3
(oz) 2/3
(g) 20
Calories 25
Protein (g) 2.4
Carbs (g) 0.2
Fat (g) 1.6
Sat. Fat (g) 0.5
Cholesterol (mg) 87
Sodium (mg) 158
Calcium (mg) 10
Fiber (g) 0
Exchanges: Free exchange 1